Client Testimonials
A client Sold Home in Arroyo Grande CA

Kathy Fissori has helped us sell 2 different homes in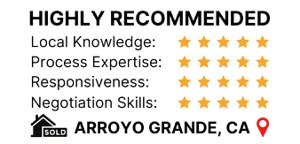 Arroyo Grande in the past 3 years (October 2018 and March 2021). We originally selected her because she had become a personal friend of ours and because she has such a great reputation in the community. This reputation combined with the fact that Kathy has lived in the area her entire life gave us great confidence that she really knows the local real estate market. What do we like best about working with Kathy? EVERYTHING! She is such a professional - very organized, very thorough, great communications, and very realistic with respect to timelines as well as market pricing. She also has a great team of professionals that support her. We would DEFINITELY recommend The Fissori Real Estate Team to anyone looking for representation, especially in the 5 Cities Area.
Sold Home in Pismo Beach, CA
Kathy and her team are absolutely first-rate! She successfully sold some parcels for us in the area (Pismo Beach and Santa Maria) and when it came time to sell my mother's house in 5-Cities, there was no question about who the real estate agent would be. Everything about the process - from the pre-sale preparation to the listing to the photographer to the staging to all the strategizing about the best way to position the property - was done at the highest level. Cannot recommend her enough.
Sold Home in Arroyo Grande, CA
The Fissori Real Estate Team is a great team to work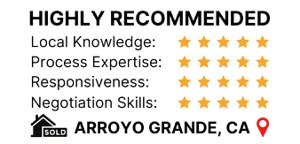 with. Their service is brilliant. They are very professional and easy o deal with. I was very much confused and was unable to decide which place to finalize and even asked more than 100 questions at one time, but these guys were patient and calm. Their response time when you have a question is very fast. I also liked the weekly contact and the timely feedback after the showings. I would highly recommend them to everyone and anyone in the future.
Sold Home in Pismo Beach, CA
Kathy Fissori is a real estate professional who serves her clients with dignity, diligence, personality, and professionalism. Her team was responsive and very courteous with their efforts to help us conclude the closing of our escrow.
Sold Home in Grover Beach, CA
We chose Kathy to sell our family Home in Grover
Beach and Cabin at Lake Nacimiento after the death of our parents. As you can imagine, this was a very difficult time for my brothers and I. Kathy and her entire team were amazing. Our home sold within one week, and our cabin, which was difficult because it had contingencies, within six months. Kathy made the process as painless as possible, and for that, I am truly grateful. I would not hesitate to use Kathy for any of my real estate transactions. and would give her the highest recommendation for anyone buying or selling their home/property on the Central Coast.
Sold Home in Nipomo, CA
I would absolutely recommend Kathy Fissori as a real estate professional. Kathy helped my family purchase a home in Trilogy at Monarch Dunes. Throughout the entire process, Kathy was there for us. She is always polite and professional! She is a subject matter expert in the local real estate market. She is reliable, dependable and always communicates with her clients in order to keep them informed. She sends out weekly newsletters about real estate that are also very informative. I know that we got a great deal and Kathy was there every step of the way!
Sold Home in Santa Maria, CA
After retiring I made a move that I was considering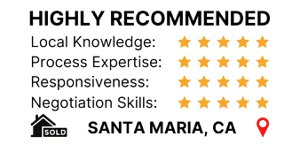 for a number of years with the serious search of a second home in a cooler environment. Although I had in mind some not very common personal requirements and ended up settling for much less than my list of original requirements, I was very happy with the guidance and reality checks that the Kathy Fissori Team gave me. When asking Erich Salas about certain properties I was considering, I could sense his reluctance and probably thinking this is not going to work, but rolling with it until the technicalities were all too obvious and I moved on the consider something else. After a year of these types of issues I finally settled for a property much different than my original total wants and desires, and by being in the area it will be easier to find that ideal match to my wants. During the purchase process, the whole team made the ordeal as painless as possible. Thanks to all of you involved!
Bought a Home in San Luis Obispo, CA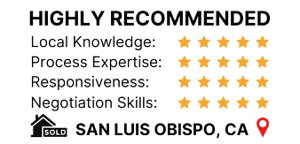 My husband and I just purchased our very first home with the help of Kathy Fissori at Keller Williams! It was such a pleasure working with Kathy and her team ... they were extremely professional, timely, helpful, and caring. Kathy went above and beyond for us, answering our many questions and supporting us every step of the way. Communication was always fast and easy, and we knew that we could always be in touch with her via phone, text, email, and social media. We will be forever grateful to Kathy, as she helped make our dream of homeownership possible! I highly recommend utilizing her services as your Realtor!
Bought and Sold a Home in Pismo Beach, CA
When we started looking for a house, we ventured
out on our own without an agent. We found this was not a good idea and knew we needed to find a good Realtor to help us. We desperately wanted to find one whom we could trust and is experienced in the market. We were so fortunate we found Kathy Fissori and her team. They were extremely helpful, professional, knowledgeable, and most importantly honest and friendly with us. I would definitely like to do business with them in the future for any other transaction without hesitation. They not only fulfilled our requirements, rather they and also guided us from start till finish in every aspect of the purchase.
Sold a Home in Arroyo Grande, CA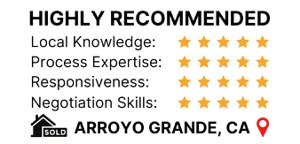 My experience with the Fissori Team went really well. I had other dealings prior to this transaction with other home purchases. I was never served so professionally as we were treated with the Fissori Team. I even dropped an agent because of his lack of understanding of what I was looking for and went with the Fissori Team as a reference from another client and I was very satisfied with my move. I would definitely recommend them and would love to do business with them again.
Sold a Home in Pismo Beach, CA
The Fissori Team were very professional throughout
the entire process of selling our home. Their communication skills are great as well as they instantly make people feel at ease. The Fissori Team is the type of people that inspires confidence right from the start. I absolutely recommend them and if you are planning to sell or buy a property, I can guarantee you will not be disappointed.
Bought a Home Arroyo Grande, CA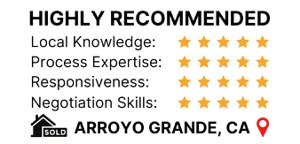 With a growing family and their needs, we are happy to now look forward to our dream home for which I would like to thank Fissori Real Estate team. We were referred to them by both our friends and family particularly because of their knowledge and expertise as well as their energetic and enthusiastic attitude. We always felt them professional, honest, and timely-mannered. They provided us with realistic advice. Overall we were very pleased with the team and would strongly recommend their service.
Bought a Home in Arroyo Grande, CA
Kathy Fissori exceeded our expectations as a real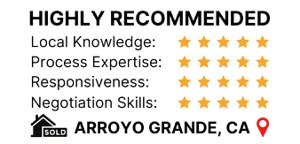 estate agent. While looking, we were living over 2 hours south but she always made herself available. She was patient--it took us two years to find our dream home. She did not push us to act--we had made an offer on another house but then decided not to buy it during the inspection process. Through all this, Kathy was a consummate professional. Her main concern was making sure we were happy. After the sale, she has been helpful in recommending multiple local vendors and in getting us acclimated to the community. We highly recommend her!
Sold a Home in Grover Beach, CA
Kathy helped me and my siblings market my parent's home, she handled the transaction flawlessly. I and siblings wouldn't hesitate to have the Fissori Real Estate Team handle our real estate needs.
Bought and Sold a Home in Pismo Beach, CA
I was very pleased with Kathy Fissori and her real
estate service. They are very familiar with the current market and very professional. Their team was very helpful with staging and preparing our home for sale. They gave us a realistic idea of what to expect from the process. We were most impressed that they had our best interests in mind. I would highly recommend the Fissori Team for real estate services & ability and would rate them 5 stars.
Sold a Home in San Luis Obispo, CA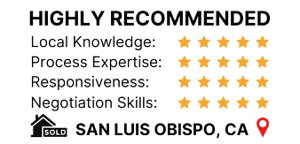 Kathy and her team were awesome - very professional, very honest, and realistic about the current market. She always responded very quickly to my questions and requests. She helped me stage the house so it had more of a WOW! effect when you first walked in. The Fissori Team uses the latest marketing techniques and trends, my house sold very quickly. I highly recommend her.
Sold a Home in Santa Maria, CA
Kathy and her team were the best agents I have ever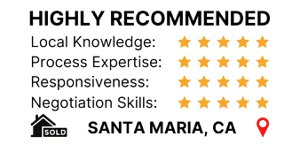 worked with. She took care of all the details and coordinated the repair stuff for me. She spent her time prepping the house with a few things to make it more attractive. Kathy would be my first choice for any other real estate needs I may have.
Sold a Home in Nipomo, CA
Kathy knows how to showcase real estate. Our house had a buyer the 1st day. Very professional. She even gave us good advice on looking for a new home in the San Francisco area. Good follow-through on all issues.
Bought and Sold a Home in San Luis Obispo, CA
I would rate 5 stars out of 5 stars to the Fissori Real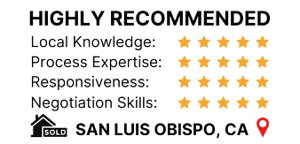 Estate Team as they are wonderful and friendly real estate agents. I can honestly say they are very sharp, honest, professional, very careful with details, friendly, and obviously very intelligent negotiators. I was fortunate to meet them and since then they are my real estate agent. I have dealt with them a couple of times now and I feel very comfortable recommending them for any real estate needs.
Bought and Sold a Home in Pismo Beach, CA
This was my first real estate experience in many years and was highly suspicious since my wife and I had no prior connection with Fissori Real Estate Team. We developed a very strong relationship which was fostered by their effort and time invested in us. We were totally impressed and cannot imagine going to anyone else for future real estate endeavors!
Sold a Home in Arroyo Grande, CA
When it was time for my mom to relocate to a senior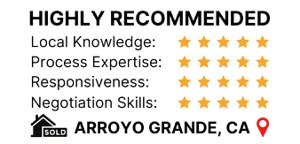 living facility, Kathy Fissori and her team helped her with the sale of our family home. Kathy was very professional and, all the while, caring and attentive to my mom's needs and desires during the process. She helped her get the house cleaned up and staged to be shown. Within just a few months, the house was sold and Mom was on her way to her new home in San Diego. Kathy deserves a 5-star review and more.
Sold a Home in Nipomo, CA
We used Kathy to purchase our house four years ago. The entire home buying process was a bit overwhelming but Kathy was there every step of the way to explain things and really helped us along. Her communication and organizational skills are top-notch! Even when we hit some complications right toward the end she was there making phone calls and coming up with alternatives. We still have semi-regular communication with Kathy four years later and when my wife and I decide to purchase another house in the future we are definitely going to go with Kathy again.